Here are some Barbecue menu suggestions:

Hamburgers
Sabrett's*Hot dogs
We include all the condiments & buns too!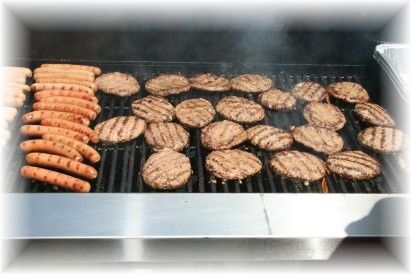 Sausge & peppers with mini rolls
Slow cooked TEXAS style Beef Brisket
Grilled sliced Top round London Broil
New York strip steak



      You've just got to try our Signature slow roasted
  smoked chicken!
  Lightly season and
roasted to perfection!  Add a touch of BBQ sauce and you are in heaven! (we even give
you a wipe for your face & hands)
OR choose our grilled & marinated chicken breast cutlet simple & delicious!
After 25 years, we've got the
RIBS
recipe down to a science!
6 hours
of a low slow
roast
and you've got the
best ribs
you've ever eaten!
Think ribs are messy? Try our own "
Secret Recipe
"
Pulled Pork
You will get your choice of 3 of our Homemade
salads!
We offer our traditional potato & macaroni salads; Cole slaw, linguine with tomatoes & cucumber; tomato & mozzarella w/fresh basil; tri-color pasta w/olives & feta cheese; cold green beans w/red onion;
fresh vegetable crunch; tossed garden greens
     Feel like something different?  We grill shrimp, scallops,
salmon,& tuna! Our Little Neck clams (by the bushel) are served raw with our homemade cocktail sauce or steamed with butter, garlic & white wine
Try them over a bed of freshly prepared linguine with some crusty Italian bread!
        When it's
Summer
time in New York, it's
corn-on-cob
time!  Our corn is picked  the morning of your party (the farmer insists!)  and steamed to perfection! We add  plenty of melted butter for the perfect addition to any barbecue!
    Or try our own
Spooned Corn bread casserole
! Real corn & butter mixed right into the
cornbread
!
    WE hand
pick all our produce
and choose
only the best ingredients,
from local
farmers,
 for all of our
side dishes and home made salads!
Feel free to call John or Joan for more information and pricing for your special event!
845-778-7259